To celebrate ScrapMatters 5th birthday, we wanted to give back, and in a big way. Check out these amazing sponsors and the prizes they've offered:
1-year membership – only available to a NEW member
Black and White. Film. Children. Street Photography. Processing. Lighting. Artistic Development. And more. Bring your questions, dive into a discussion, or just do some reading alongside thousands of other women who love photography as much as you do. Come grow with us!
$50 gift certificate
Unless you live under a rock, you've heard about the fantastic quality and amazing customer service that Persnickety is known for. Their prints are always spot-on for color, and their full bleed set-up means you never have white edges or cut-off edges. Your pages print just exactly like you see them on your screen. In addition to their generous prize for the winner, they've also offered 10% off coupon for ALL our fans:
Coupon Code: scrapmatters
Good for 10% Off your entire order.
One use per customer
Expires: September 5, 2012
Want to improve your digi scrapping skills? How about learning how to editing all of those digital photos that are sitting on your computer? If your answer is yes then JessicaSprague.com is the place for you! Over 60 video-based, online classes in everything from
digital scrapbooking
,
photo editing
,
Silhouette
and now
videography
are offered. And once you buy a class, you can access it forever – love that! And, if you are totally new to JessicaSprague.com and want to get a taste of what they are about, they offer a FREE Photoshop class –
The Photoshop Top 5
! For the month of August, JessicaSprague.com is also offering ALL ScrapMatters fans 20% off any of the classes offered in the giveaway.
Coupon Code: ScrapMatters20
Good for 20% off any classes listed above
One use per customer
Expires: August 31, 2012
digital download of Everyday Storyteller
Everyday Storyteller helps scrapbookers bring their stories to life with simple ideas for the practice of memory keeping. With advice for paper, digital and hybrid scrapbooking, the book takes the reader behind-the-scenes with real world storytellers. It includes more than 100 tips, tricks and techniques for capturing moments, telling stories and creating memories.
When I'm not sucked into Pinterest, I love to spend time browsing all the beautiful creations available on Etsy. I came across this beautiful camera necklace and just knew it had to be included in this giveaway – isn't it stunning! Leigh has so many beautifully hand-crafted and vintage-inspired goodies in her shop, you'll definitely want to check it out.
Mustache necklace
, anyone?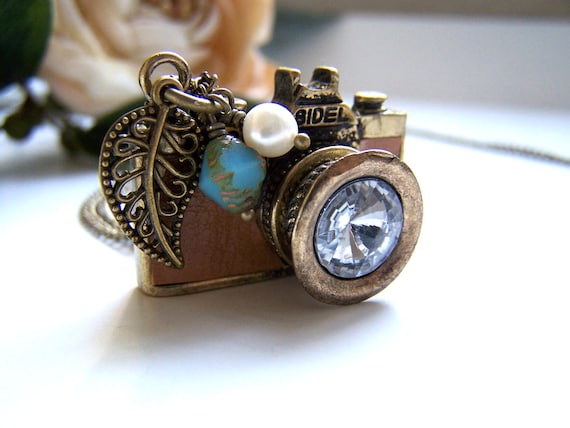 6 months of The Fix
-OR-
3 months of banner advertising
The folks at DSA have been so generous in their contribution, and will customize it based on the winner being a designer or a scrapper – you choose what you want!
bag of your choice from JoTotes
"We have been creating and sending camera bags to women photographers around the world since 2009. Our bags provide a fashionable way for women to safely carry their camera bodies and lenses, along with regular purse items, every day—whether it be to a photo shoot, while traveling, or just while out on a regular day." I think all of these bags from JoTotes are SO cute, but my personal fave is the
Betsy
– how can you not love something with a name like that?
1-yr membership
Here at THE DAILY DIGI, we are dedicated to bringing you the best in digital scrapbooking on a daily basis. The best quality products, the best resources, information, tutorials, and more so you don't have to spend your time surfing and navigating the internet looking for it.
$25 Gift Certificate
Who doesn't love free product from their favorite store?
Isn't that prize list incredible?!? Do you want to know something even MORE incredible? ALL of those goodies are going to a single winner! That's right – YOU could be the lucky lad or lass that snatches up each and every one of those offers! So how do you enter? Simply use the
widget at the bottom of the SM Blog Post
to track your entries. You can enter as many times as you like, and some of them you can do more than once for even more entries! The deadline to enter is 11:59pm EDT on August 14, and the winner will be announced shortly thereafter. Good luck!!!